---
Widow/Widowers Campout - Aug 16th-19th
Second Annual LDS Widow and Widower's Campout/Retreat!
Jordan Pines in Big Cottonwood Canyon
We had such a great turnout last year--and so many more expressed an interest in attending this year, we've booked two adjacent campsites, and an extra day. Come for as much or as little as you are able to.
---
LDS Singles Events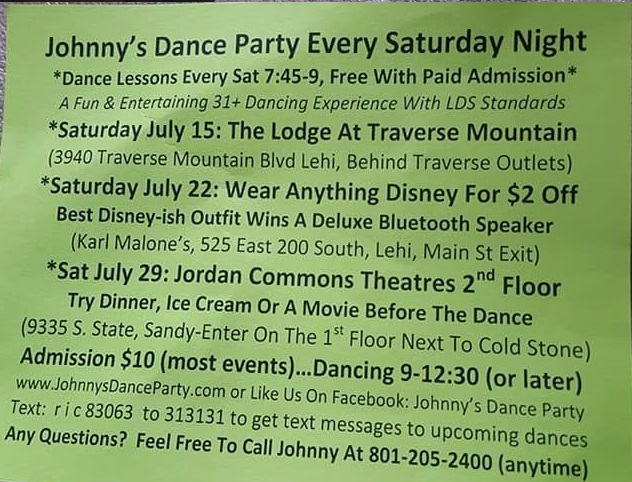 Widows/Widowers Get in for just $5 ! Just Say "I'm a Widow" and hand them your $5 !
This is good at all future dances they host!
---
LDS Church Singles Dances (Ages 31 and Up)
1st Friday of the Month
2850 West 3835 South
West Valley City
1st Friday of the Month
481 E. Center St
Orem
2nd Friday of the Month
729 Shepard Lane
Farmington
3rd Friday of the Month
4300 N Canyon Rd
Provo
4th Friday of the Month
1750 East Spring Ln
Holladay
---
LDS Singles Wards



Salt Lake County
Granger Ward
8059 W 2700 S, Magna
1:00pm-4:00pm
Herriman Ward
13100 S 6000 W, Herriman
9:00am-12:00pm, Sacrament First
Parleys Ward
1870 Parleys Canyon
1:00pm-4:00pm, Sacrament First
Emigration Ward
1928 E S. Campus Dr, (UofU)
1:00pm-4:00pm, Sacrament First
***Union Fort Ward***
7155 S 540 E
1:00am-4:00pm, Sacrament First
Utah County
Oak Hills 8th Ward
925 E, N. Temple Dr., Provo
1:00pm-4:00pm
Sunset Heights 1st Ward
785 College Dr, Orem
1:00pm-4:00pm
Alpine SA Ward
10390 N Alpine Hwy, Alpine
1:00pm-4:00pm
Spanish Fork SA Ward
275 S 1400 E
1:00pm-4:00pm
Bountiful
Bountiful Ward
1540 N 400 E
1:00pm-4:00pm
Logan
Logan SA 1st/2nd Wards
350 W 700 S, Logan
1:00pm-4:00pm & 1:30pm-4:30pm
---
Singles Firesides


1st Sunday of the Month
7:00
12300 S 1200 E
Draper
*Refreshments Served After*
2nd Sunday of the Month
7:00
7155 S 540 E
Midvale
Union Fort Singles Ward
7:00
1050 W 1600 N
Orem
7:00
1350 S 1800 W
Syracuse
3rd Sunday of the Month
7:00
4366 S 1500 E
Holladay
Winder West Stake Center
7:00
4080 W 12600 S
Riverton
7:00
380 S. Fairfield Rd.
Layton
4th Sunday of the Month
7:00
1160 East Vine Street
Murray
Little Cottonwood Stake Center
7:00
4080 w 12600 S
Riverton
7:00
2850 W 3835 S
West Valley City
7:00
Old Post Chapel
South Ogden
---
Utah LDS Singles Info:
Provo Area



Logan Area


www.cachesingles.org



All Utah


* LDS Singles Recorded Hotline Number: "801-LUCKY4U" (801-582-5948) *